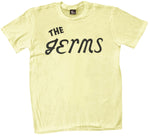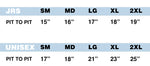 GERMS
Regular Price

$25.00
Sale Price

$25.00

Regular Price
Unit Price

per
Details


Be sure to check sizing! Juniors tees run small.
Before they ever even played a show the Germs had their own customized band tees.
This is arguably the very first Germs tee, exclusively and faithfully recreated here by Rock Roll Repeat. You might have seen a pre-Go Go's Belinda Carlisle (Dottie Danger) sporting it in the pages of Slash Magazine.
What isn't very well known though, is that each band member had a custom back print that said 'After you' above their name (Dotti Danger, Bobby, Lorna, Pat etc.)"
Because no photos existed of the back when we started this project we decided not to do a back print. We didn't want to guess, ya know? But that's nothing you can't fix with a sharpie once you get your own! (Belinda's tee actually sold at auction recently, and for the first time you can see what the backs looked like if you look it up!)
Int'l orders may be subject to a non-refundable customs fee.
• 100% Cotton
• Slim fit
• 4.3 oz
• Printed in Oakland
• W.R.A.P. certified sweatshop-free